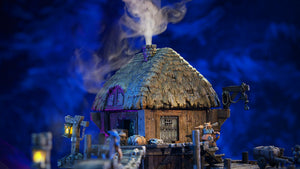 At Dwarven Forge we strive to provide maximum immersion for your games. To that end we have a fondness for small details and special effects that can help your builds look truly alive. From miniaturized fog machines, to flickering fire LEDs we make it easy to create jaw-dropping scenes.
Smoking Chimney
Lowtown's Thatched Roof is the newest cover piece we have created for our DF Floor Fogger. Simply add water to your Fogger, cover it with the Thatched Roof, and place it on your building for instant immersion. Moving smoke is always a crowd-pleaser at the table.
Modular LED Lights
All our City Build System LED walls feature a modular LED socket, and the new Rustic Wood Wall - LED Socket is no exception. A replaceable CR2032 battery and hidden on/off switch provide power to a tiny wall socket. Insert any LED element, such as our new Gothic Lantern, to create illuminated ambience in any build.
Swappable Window Panes
Brand new to Lowtown, we are adding translucent window panes that you can swap out or remove completely. Quickly change the look and feel of a building by changing out the elegant lattice window panes for broken glass or patched vellum. The window panes look particularly striking when illuminated from behind.
Magnetic Accessories
Several of our pieces, such as the Magnetic Walls to the Modular Roofs, feature internal steel plates allowing magnetic accessories to stick to them. Add large tapestries of framed paintings to the walls of your manorhouse, a toolrack to the side of your shed, or top your roof off with a chimney or perch.