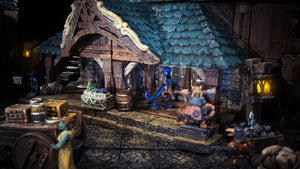 A few key accessories can really set the mood of a scene, adding drama and mystery and providing players with clues, challenges and the occasional cunning distraction. Our dressing is designed for maximum modularity as well as character, ensuring that you always have the right piece to fit in the right place. Distinctive miniatures add even more personality to any encounter.
Modular Dressing
Cities Untold: Lowtown features exciting new pieces for our popular line of pole accessories as well as new window inserts and a brand new series of interchangeable acetate windowpanes - everything you need to give every building its own distinct personality. The kitchen grate can be repurposed, the bookshelves are removable, even the trash is modular! 
LED Lighting
There's nothing like dramatic lighting to amp up the mood of any encounter. Our swappable LEDs, including the new Gothic Lantern, can be placed in any of our LED socket pieces for an ever-increasing variety of illumination options. New freestanding LED pieces including a fireplace, rustic lamp post, and dormer brighten the scene even more. 
Magnetic Accessories
Another fan favorite is our line of magnetic accessories that can be placed on any of our many structures with embedded metal plates such as the new Rustic Wood Wall - Magnetic.
From tapestries to tool racks, picture frames to mages' mantel shelves, our new options can instantly change the character of a room and are backwards compatible with all our older magnetic features. 
Secret Door Bookshelf
There's nothing quite like a good surprise at the gaming table. Our new Secret Door Bookshelf includes a masterfully hidden, fully operable door that is virtually undetectable until revealed. Keep your players guessing what else has gone unseen!
Non-Human Townsfolk
We're excited to expand our townsfolk collection with a group of eight non-humans. Add some diversity to your fantasy city with unique personalities that feel right at home wandering the waterfront, strolling the market square, or whispering in the corner of a seedy tavern. These characterful NPCs are ready to populate your scenes as background actors, or maybe even take a speaking part!